Qmed Asia -
Top Healthcare Company in Malaysia
Our Story
Qmed Asia (formerly QueueMed) is a healthcare technology startup founded in 2018 by a group of Doctors and Engineers to assist both public & private healthcare providers with their digital health transformation.
Our initial focus was to address the problem of long queues in hospitals, which our founder, Dr Kev Lim, experienced himself when he brought his daughter for follow-up. Further worth noting, patients' experience in hospitals was seemingly unpleasant with the unnecessary extensive waiting time. Passionate about healthcare, together with Dr. Tai Tzyy Jiun and Nic Tai, we took matters into our own hands and decided to tackle the issues patients face at hospitals for good.
Read Full Story
Since implementing our online appointment system and mobile queue solutions in clinics and hospitals, we have received overflowing support and positive feedback both from the public and healthcare providers. It wasn't long before we realised there was much to do for the healthcare industry in Malaysia after receiving numerous requests and demands from our users (healthcare providers). We made it our mission to roll out more comprehensive modules that would significantly impact the healthcare industry.
Today, Qmed Asia serves as an all-in-one healthcare companion for both patients and healthcare providers. Healthcare providers can easily implement a variety of digital health modules, such as the patient experience solution, virtual clinic solution, clinical practice assistant, and healthcare services matching. And for the patients, we offer a comprehensive range of online healthcare services, including appointment booking and online queueing to nearby healthcare facilities, having a doctor or nurse come to their home, video consultations with doctors, and remote patient monitoring solutions.
We believe that the future of healthcare is digital, and we are committed in making quality healthcare accessible, affordable, and accountable in collaboration with our partner healthcare providers.
Read Less
Get To Know Our Identity
Our Brand
Qmed Asia was founded by a group of seasoned healthcare professionals who collectively had just one idea — to provide quality medical services across Asia via advanced technology.

Formerly known as QueueMed, our journey began as a mobile live queue system provider for the medical industry. We have since evolved and expanded our market presence in the healthcare sector. Changing the brand name from "Queue" to "Q" signifies our commitment, moving forward, to providing quality healthcare solutions for all.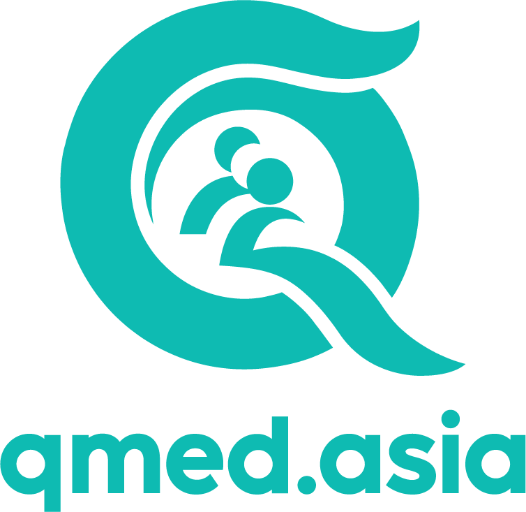 Vision
Empowering all people everywhere to live their healthiest lives through healthcare technology advancement.
Mission
Help all people access health information, services, and receive the quality care.

Cultivate healthcare providers to adopt technological innovation to improve healthcare accessibility, quality, and efficiency.

Have a meaningful positive impact on all people health outcomes over time.
Our Tagline
Passionate
about
Healthcare
Our new tagline, "Passionate about Healthcare", encapsulates our journey and inspires us toward our vision. It portrays our day-to-day mission leading to more holistic, transformative headways.

At Qmed Asia, we have and always will be passionate about healthcare.

We are a dedicated group of doctors, researchers and innovators who believe that technology innovation can improve patient care, reduce costs and improve health outcomes.

We are passionate about being the trusted partner for healthcare providers to deliver solutions that make healthcare better, easier and more cost-effective.

Healthcare is evolving faster than ever, and we are passionate about impacting people's health and improving lives by delivering healthcare uniquely via technological innovation.
Our Values
Quality Healthcare Technology Provider
We ensure to provide only exceptional healthcare services for all.
Motivation Drives Productivity
Together we are inspired to continuously level up our commitment and energy in propelling the success of our services.
We strive to entrust everyone with the knowledge and skills to make informed decisions about their health.
Dynamic Business Strategies
Full steam ahead, we are swift and versatile in adopting efficient strategies in response to any situation.
Frequently Asked Questions About Teleconsultation
Qmed Asia is Malaysia's best online doctor consultation platform. Skip the queue and talk to a doctor online now and get your health screenings and treatment done via video calls, phone calls and chat services.
Qmed Asia is Malaysia's best online doctor consultation platform. Skip the queue and talk to a doctor online now and get your health screenings and treatment done via video calls, phone calls and chat services.
What services does Qmed Asia offer ?
Our services include online health consultations, home-based health screenings, online appointment bookings at Klinik Kesihatan, Specialist clinics and more, and automated reminders where you can skip the queue and go for your medical appointments on time without hassle.
Why should I book a doctor consultation online ?
With Qmed Asia's online doctor consultation, patients can skip the clinic queue and save the trouble of travelling while sick. You can now book your consultation online and talk to the doctor virtually. Get your medication delivered to your doorstep and enjoy the recovery journey in the comfort of your home!
Is a Virtual Care solution available for clinics?
Qmed Asia is dedicated to providing seamless healthcare experiences. These technologies enable patients and medical practitioners to get clinical services in a simple and safe manner, enabling healthcare providers to support and manage patients in their own homes and assist patients in becoming more active in their treatment.
What makes Qmed Asia's online booking special ?
Qmed provides O2O solutions which includes online and offline aspects of a queue system. Unlike other Mobile Queue Solutions in the market that has a single queue line, QueueMed's Medical Triage Queue has three queue lines – Special Care, Appointment and Walk-in, to enable medical personnels to prioritise patients in the clinic.